How To Make Online Meetings More Effective
MEETING PEOPLE ONLINE HAS BECOME A NORMAL PART OF OUR EVERY DAY LIVES.
Whether it's a Skype call with old friends, FaceTime with the family, or trying to get work done through Zoom, more and more of our interactions are being held virtually. And the more time we spend online, the more challenging it can be to keep our teams motivated and engaged.
With more people spending more of their time in online meetings, it can become harder and harder to keep their focus. Managers are finding it increasingly difficult to take charge of their meetings. And with good reason. Whether the people on your team are homeschooling their kids, shoving their cats off their keyboards, or simply suffering from ZOOM FATIGUE, there is a new set of challenges that you never had to deal with in the office.
But despite all of the challenges that working virtually can bring, we still have every opportunity to LEAD OUR TEAMS TO BE EFFECTIVE, PRODUCTIVE, AND ENGAGED THROUGH ONLINE MEETINGS. In this post, we'll talk about 7 things that great leaders do when running online meetings to get the most out of their teams.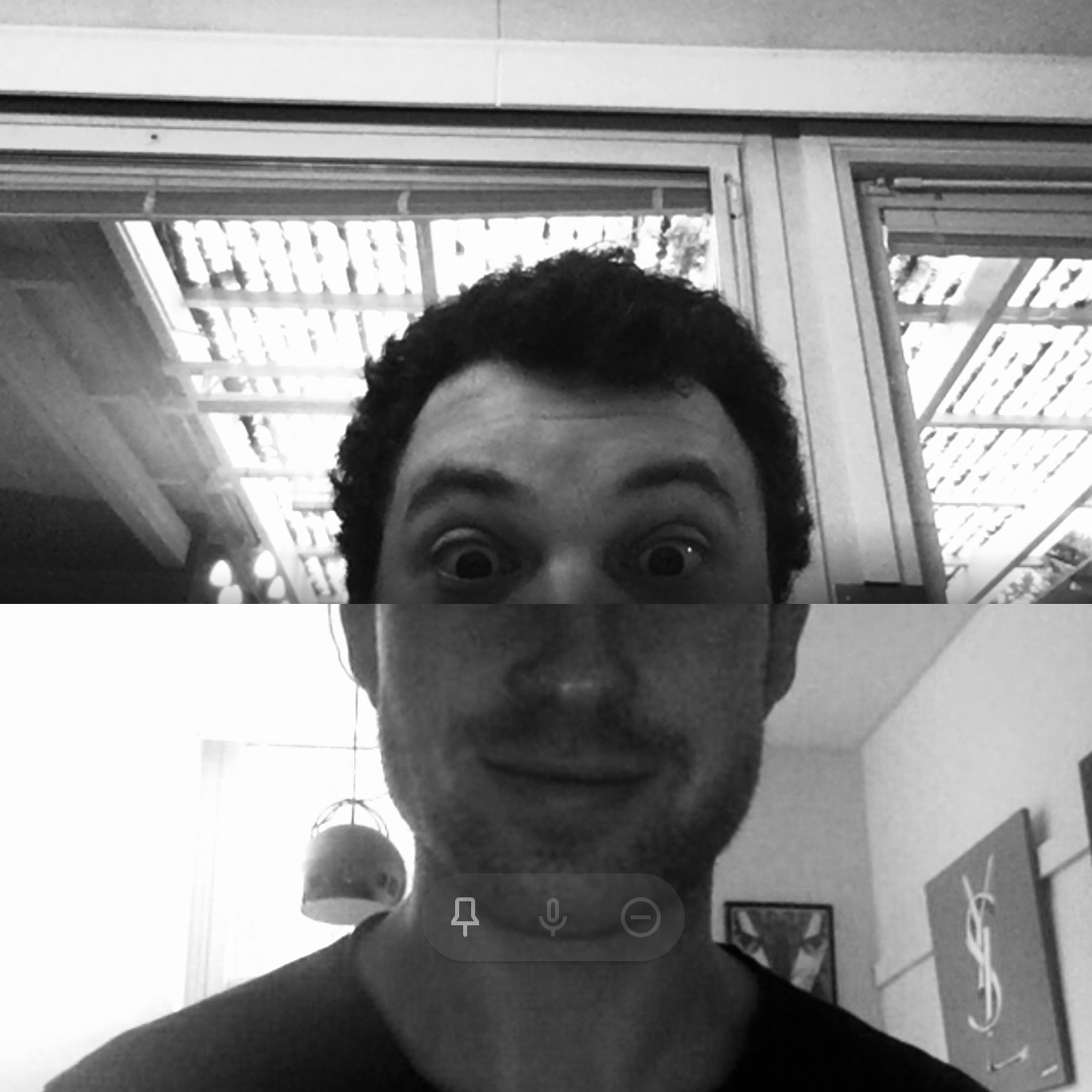 ADJUSTING TO LEADERSHIP ONLINE
Web conferencing tools like Teams and Meet have made it possible for us to move almost all of our workflow online. And it isn't just the day-to-operations, either. Companies are finding ways to move nearly every type of interaction online; from new employee onboarding, to virtual TEAMBUILDING and TRAINING SESSIONS. They're even holding their company Holiday Parties online. But making the transition to working online is not as cut-and-dry as people may think.
Leaders are starting to see that they need to adjust the way they approach running meetings virtually. And we hear from many leaders that they are struggling to find new ways to keep their online meetings running smoothly, efficiently, and effectively. In fact, FORBES RECENTLY REPORTED that remote workers expect more from their leaders. 
That's why we've compiled this quick list of 7 things that great leaders do to make their online meetings more effective.
Let's go.
1 | Define The Meeting
Set expectations so your team knows how to interact.
Not all meetings are created equal. And different meetings require different types of interaction. Labeling the meeting in your shared calendars gets everyone on the same page with regards to how they should expect to participate. This means your meetings move forward more effectively so you can get back to work.
2 | Create (And Use) An Agenda
Make a timetable to help move things along and stay on task.
Staying on track is even more difficult when you're meeting remotely. Creating a simple agenda before meetings gives you an outline to keep things moving forward. It's also easy to share the agenda on your meeting's calendar so that your team can prepare. You can also adjust the calendar's settings to let appropriate team members add items or make adjustments.
USE OUR FREE TEMPLATES TO CREATE GREAT ONLINE MEETINGS
3 | Set The Tone
Create atmosphere and get everyone in the right space.
The first few moments of your virtual meeting can set the tone and determine how effective and productive your team will be. Take the time to create an appropriate atmosphere for your crew to let them know what they can expect. We like to do this by playing some funky jams while we wait for everyone to arrive. And we love a quick team energizer to connect our team and help us be present.
4 | Check In
Find out how they're doing and where they need help.
Strong leaders are great communicators. In order to be effective communicators, we need to know that our audience is ready and able to listen. Regardless of the type of meeting, connect with your crew to make sure that they're ready to go. Check in with them emotionally, and give space when possible to let them celebrate their victories, vent their frustrations, and share their stories. Both professionally and personally.
Run Better Online Meetings
With These 5 Free Agenda Templates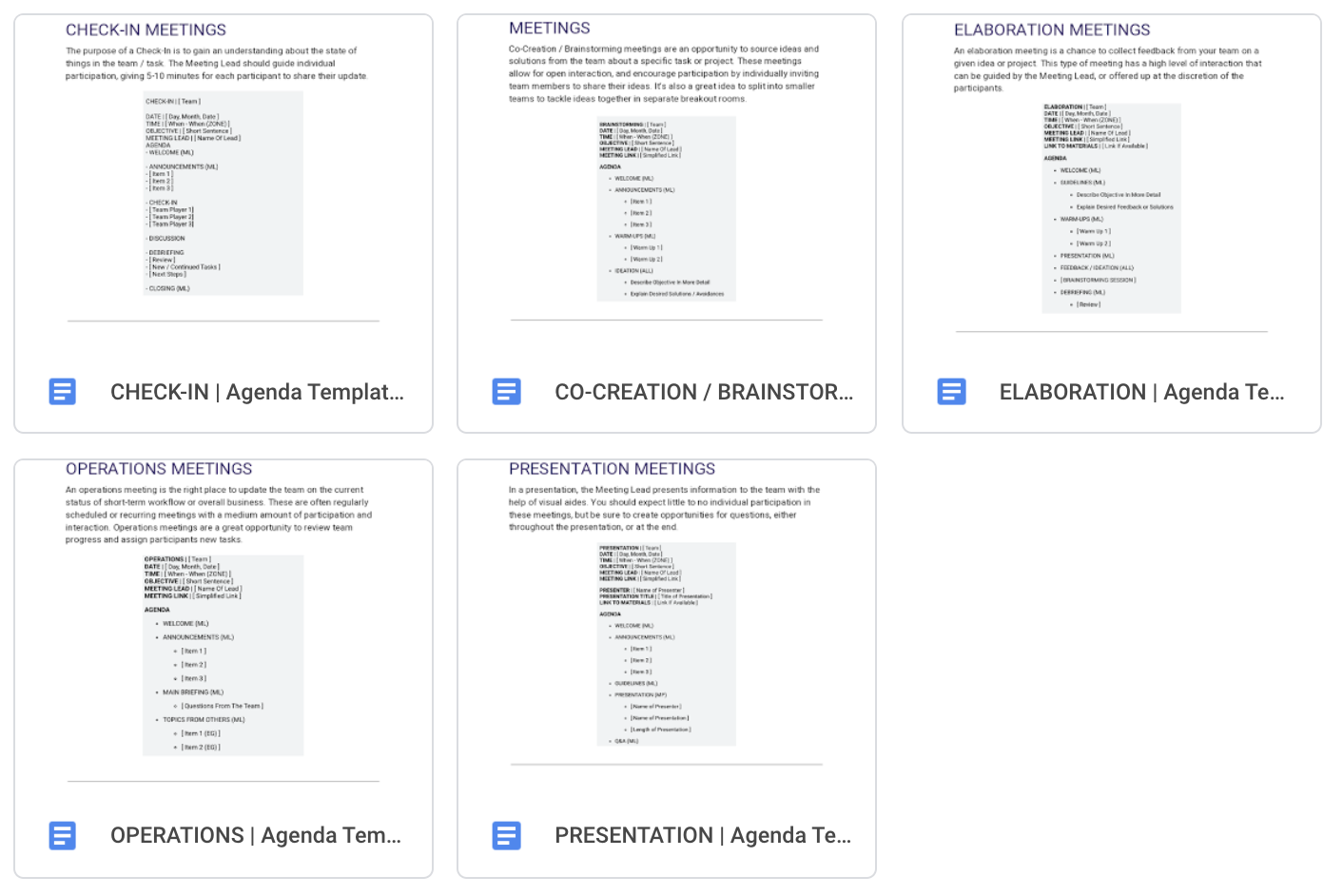 Run Better Virtual Meetings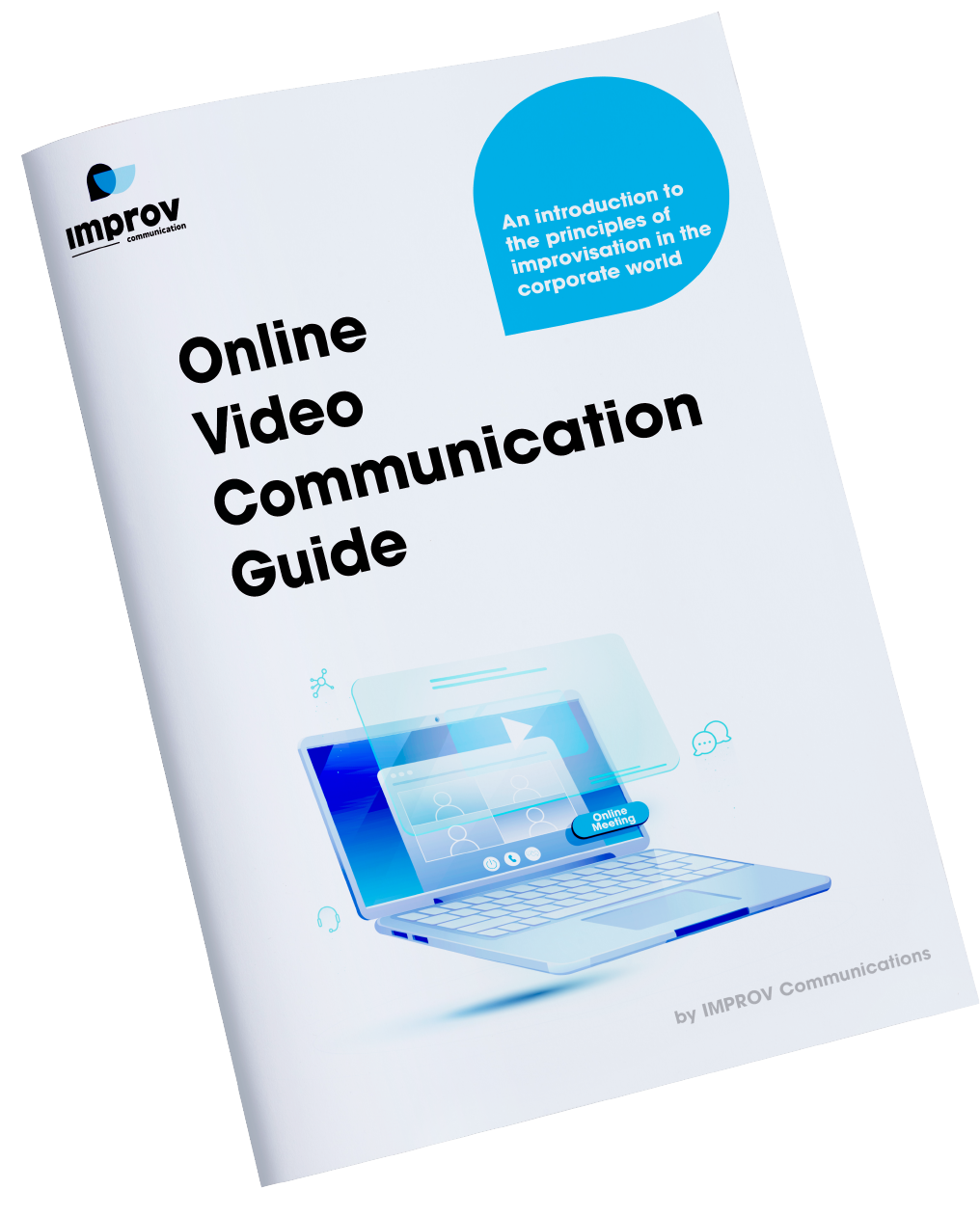 Learn How In Our Free eBook!
5 | Keep Things Short
Short. Sweet. And to the point.
We all sit in front of our computers enough as it is. There's no need to drag things out. Keep your meetings short by sticking to your timetable and setting up additional, smaller meetings where only the necessary people are involved. This frees up your team to do the work, saving their energy, boosting their productivity, and keeping them happy.
If your meeting has to go longer than 60 minutes, be sure to take a bio-break so people can stretch their legs and renew their energy.
6 | Engage The Team
Encourage participation and keep everyone involved.
Virtual meetings present physical barriers to team engagement. That's why it is doubly important to make the effort to involve everyone. Ask the participants frequently for their feedback and burning questions. And be sure to ask for (and give) confirmation regularly to ensure that the message has been received.
7 | Debrief
Go through what was discussed and set upcoming expectations.
Today's virtual leaders spend a lot of their day bouncing between online meetings with teams, clients, and advisors. For online meetings to be truly effective, it's crucial to take a moment to wrap things up with purpose. Debriefing together at the end of the meeting is an integral part of working as a team. It not only acts as a great refresher, but it allows us to set up an action plan to achieve our goals and stay productive.
Your team needs effective leadership now more than ever. 
Don't waste their time by forcing them to sit through another pointless meeting.
Incorporating these small changes can be the difference between LEADING GREAT MEETINGS, and losing the connection to your people. Focused virtual leadership goes a long way towards keeping your team happy, healthy, and productive.
Need a little more help with your online meetings?
Book a session with Stefan to discuss your team's needs.
Keep Reading. Continue Growing.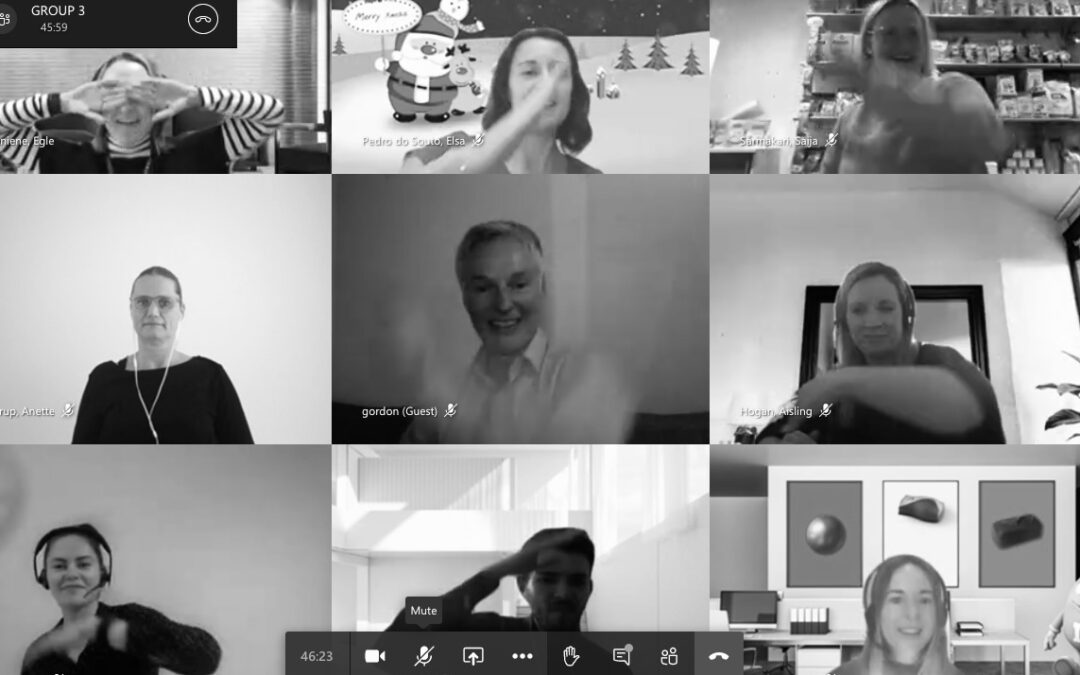 Keeping virtual teams engaged is more important than ever. Here are 5 easy things that you can do right now to connect remote teams.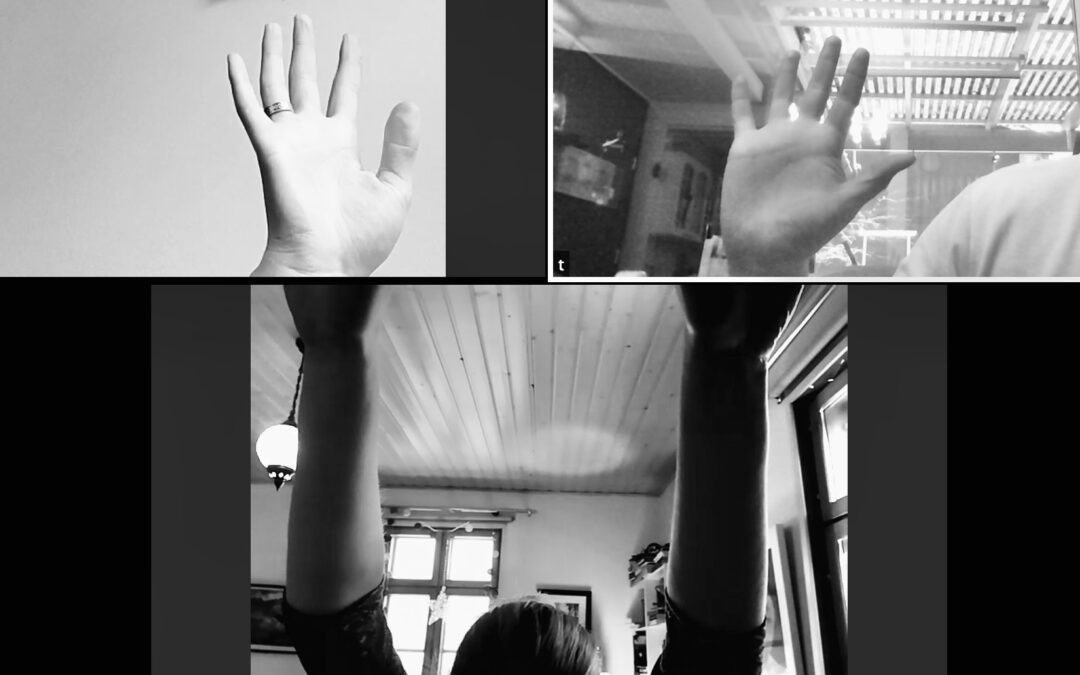 Tackling problems as a group can be a challenge when working remotely. Here's how to encourage online brainstorming in your remote teams.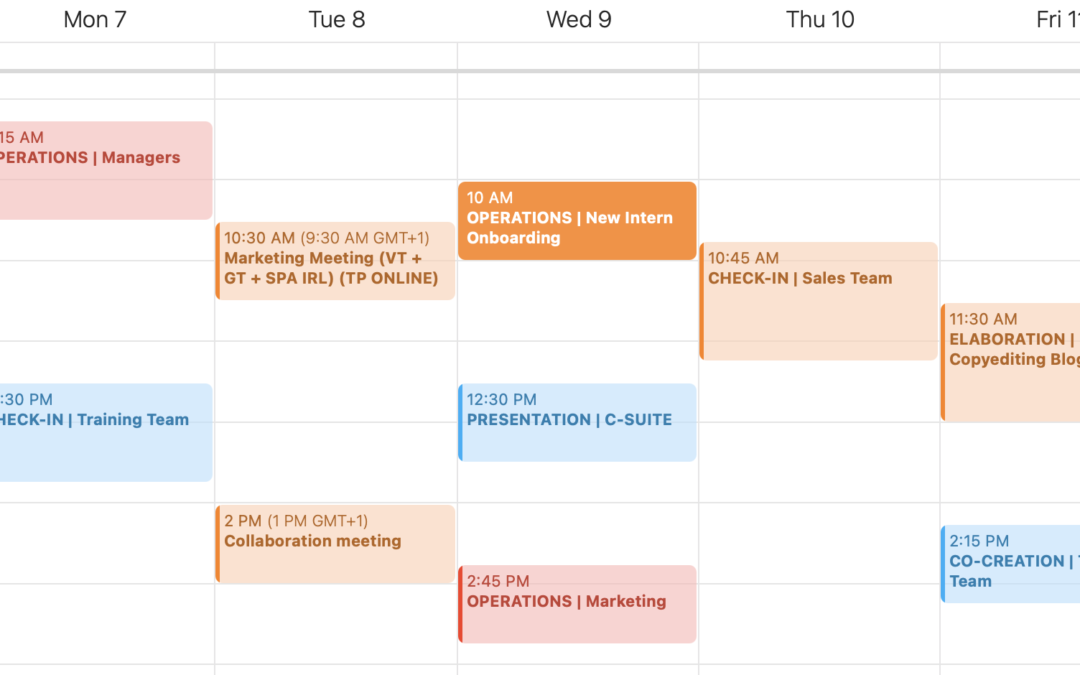 Effective online meetings come in all shapes and sizes. These are the 5 types of online meetings and how to structure them effectively.